Welcome!
Welcome to the St. John's Evangelical Lutheran Church website. We hope this site will help you learn more about us and our witness for Christ. We strive to recognize and nurture the Christ in ourselves and each person that we encounter along the way. Our church is a thriving community of believers, and lovers of the word of God. St. John's Evangelical Lutheran Church has a long tradition of outreach and service to its members and the community. We hope you will join us for service on Sunday to experience for yourself the fellowship of Christ.
Please Join Us As We Celebrate
Holy Communion Each Week with a
Divine Worship Service
At 10:30 a.m.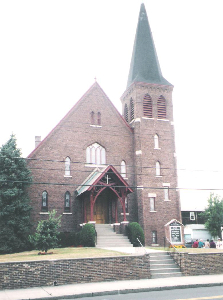 SAVE THE DATE
Sunday, October 25, 2015
Mission-fest - Oktoberfest Luncheon

Sunday, October 25, 2015

12-3pm immediately following worship.

This special event includes, bratwursts, a pot luck lunch, activities for the kids, and a special missionary presentation from Pastor Larry Rockemann.
Calling All Chef's

In need of your specialty sides to go with our brats, dogs and of course the "beer." If you are planning to attend, we simply ask that you bring a side dish or dessert to share, or perhaps you would like to contribute towards the underwriting of either the bratwursts or beer. We are especially looking for your best German potato salad, red cabbage or anything else you may want to share. Children will be entertained by our older youth and adults in the grass area across from the church during Pastor Rockemann's presentation. After the presentation, everyone will gather together for our Oktoberfest Luncheon. Any questions may be addressed to;

Elsa Webb (718) 727 9889
Brigitte Hermann (718) 720 6184
Look at Our Photos
Come see a slideshow of our wonderful community, and get a glimpse of some of the many activities that take place at St. John's Evangelical Lutheran Church.
Meet St. John's Evangelical Lutheran Church
Come to the About Us section to meet the staff and clergy, and find out what we're all about!